All content on this website is copyrighted and/or used with permission. Any unauthorized usage of this content will subject the offender to legal action.

Contact us at : shadynook65@gmail.com or 812-858-3977.
<<<<<<< WELCOME TO SHADY NOOK >>>>>>>>

We are building a new website. Our new website will replace this one. Though the new site is still under construction, it is available now. Please click the link below to go to the new site.


HOW MUCH FOR A PUPPY?

Let me say a few words to you, yes you, the person who writes an email to simply ask the price. The person who calls and after hearing a price surprisedly states "I can buy a cheaper pup elsewhere". I also address you; the person who does not care about papers because I want "just a pet". NO DOG is "just a pet".

Behind every pure bred puppy/dog is a BREEDER. I am using capital letters to differentiate a breeder from a pet factory or mill. A reputable breeder does not breed dogs without papers, that does not protect the integrity of the breed. Registrations (papers) are records of lineage that document bloodline and allow one to research any possible health issues present in the lineage. When you tell a Breeder you do not care about papers, what you are really telling them is you could not care less about the health of the puppy - you just want the cheapest thing you can find! When you select to buy a puppy from a reputable and quality breeder, this breeder is responsible for the health of every pup; both dogs owned and every pup they have sold for its lifetime. This breeder will skip holidays, miss sleeping, and most of their personal house space has been turned into space for their dogs . The truly passionate breeder who loves what they breed, puts their whole heart and soul into it. Not only in puppies that are sold, but also in each client who owns a piece of their heart and now is a member of their extended family. This does not take into account any puppy/dog who might get sick or need extra help to thrive. Breeders worry about their babies after they leave and will take one back without question.

A breeder will get their hands dirty, often covered in everything accompanied with birthing. Because that is what life is about...In the middle of birth and death is life. The wheel that keeps turning. A breeder will do tests, echos, xrays, analysis, emergency C-sections, vaccinations, register litters, research pedigrees, deworm, as well as microchip their puppies and get them evaluated by specialists.

Last but by no means least, a breeder CHOOSES the family lucky enough to have one of their puppies. Yes, you read that right. A true breeder chooses who they sell to because they are not making money off the sale. There is no compensation that can offset the investment a Breeder has made so they need to be confident its the right fit. Many times saying more "NO" than "YES" ...A good Breeder will have different criteria for those wanting to carry on their bloodline, why? Because breeding is not a responsibility to ever be taken lightly, it is a lifestyle choice set aside for ONLY the few devoted people willing to sacrifice.

Because a dog is never "just a pet" - it is the Breeder's legacy, a little boy's best friend, a little girl's protector, an elderly person's therapy, a member of the family, someone's whole world!!!

Written in part by: Sr. Eduardo Loredo Muller
Translated into English by: Angel Sophia Nogga






We DO NOT advertise our puppies on ANY social media sites (Facebook, Instagram, etc.). We REQUIRE a phone conversation with you to insure that you are a good fit for one of our puppies. Most of our puppies are placed in homes that are repeat buyers or that have heard of us by "word-of-mouth"…. the best advertising in the world. We don't feel that it is appropriate to "fish" for potential clients. We are well-known, with a good reputation as an honest, reputable breeder with gorgeous puppies. If you want a high-quality, healthy, beautiful Scottie, that comes with a written health guarantee, YOU WILL FIND US…. WE DON'T HAVE TO LOOK FOR YOU !!!!




We are honest and reputable and have earned an excellent reputation. We have been AKC inspected multiple times, and have always passed with flying colors. We believe that everyone who wants a Scottie should be able to have one. We don't feel that you should lie, cheat, or mis-lead people to sell a puppy. We want you to be comfortable with us as your breeder, because we expect to maintain contact with you for the life of your puppy.






AKC inspections insure the integrity of the registry and monitor care and conditions across the county. AKC is the only purebred dog registry in the USA that maintains a systematic and sustained investigation and inspection effort. AKC conducts 5,000 inspections each year to insure compliance with standards that support health, safety, and welfare of dogs and the environment in which they live.




We have been inspected multiple times by AKC field representatives. They check our dogs and all of our paperwork. Included in this type of visit is actual hands-on inspection of our dogs, including checking their micro-chip numbers, inspection of the space where the dogs sleep, exercise, and eat, as well as analysis of all paperwork required by AKC. We have passed every time we've been inspected !!




We welcome and support AKC inspections. They help to insure that breeders are doing their best for their dogs. Inspections are just one of the many reasons that AKC is the ONLY registration that you should trust for your next puppy – no matter which breed you choose.



Though the attached link is not specifically related to Scottish Terriers, we feel it is more than appropriate, given that Scotties suffer from more cancer THAN ANY OTHER BREED !!!

We have been breeding Scotties for since 2001, and since 2008, we have felt that in-breeding and line-breeding was a contributing factor to the overwhelming instances of cancer (and many other health issues) that Scotties suffer. At that time, we decided to find reputable breeders that had no in-breeding or line-breeding in their bloodlines. Our research indicated that nearly all of the 'desirable' American bloodlines indicated multiple repeats of in-breeding and/or line-breeding. At that time, we decided that we would research foreign bloodlines, and discovered that most European breeders did NOT in-breed or line-breed.

We acquired 3 Russian blood-lined Scotties in 2009 and, since that time, have only bred pairs that have at least one foreign blood-line. We've found that puppies produced with this breeding philosophy have been healthy, gorgeous, and have a true Scottie personality. We continue breeding under this philosophy to this day.

Please read the following link and decide for yourself…..
We believe in planned puppy parenting. We interview every person or family before they adopt one (or sometimes two), of our Scottie puppies.

We realize that it is a major commitment to bring a quality Scottish Terrier puppy into your home ! We want to make the transition as stress-free as possible for all parties involved, but especially for the puppy ! You can purchase a Scottish Terrier puppy from lots of places, but no one will stand behind your quality Scottie puppy like we will ! You know the old saying ... "YOU GET WHAT YOU PAY FOR" ....we like to add "YOU CAN PAY YOUR BREEDER, OR YOU CAN PAY YOUR VET"… You will only receive a well-bred quality Scottish Terrier puppy from Shady Nook. Thank you for considering us for your Scottie puppy! We look forward to hearing from you !!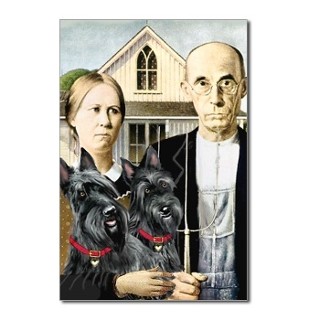 We have a LIFETIME return policy. If, for any reason, someone is unable to keep a puppy they got from us, we will always take the dog back ------------ NO QUESTIONS ASKED.
| | |
| --- | --- |
| You are visitor number.... | To find us on FaceBook, click |
We use and recommend NuVet supplements.


Scientifically formulated to provide everything your pet needs for perfect health

 

**************************************************

You don't have to have a Shady Nook Scottie to purchase

NuVet supplements. They are good for all breeds of dogs.

….and they have a formula for our feline friends, too..

**************************************************



"I love all dogs, but I only sleep with Scotties...."
Shady Nook Scotties
Sindee Hart
Beautiful Southern Indiana

(812) 858-3977
This site, and all content herein, is copyrighted
by Shady Nook Scotties.
July, 2007.