All content on this website is copyrighted and/or used with permission. Any unauthorized usage of this content will subject the offender to legal action.

Contact us at : shadynook47@gmail.com or 812-858-3977.



~~~~~~~~ WELCOME TO SHADY NOOK ! ~~~~~~~~




Registrations for Scottish Terriers have fallen off over the past few years. In England, Scotties have been placed on the "At-Risk" register because of designer cross-breeds such as "…doodles" and "…poos".




Click the link (below) to read the article….

 
Keep watching for future litters !
Our website was last updated on...

Oct 15, 2019 at 9AM

... Rainbow Bridge 10/15/2019

... Check Out Our Feedback 10/15/2019




... Puppy Pictures 09/27/2019

... IN THE WHELPING BOX 09/19/2019

... Brag Page 09/10/2019

... Home 08/26/2019

... Our Scotties (S.A. females) 08/14/2019

... Announcements 08/08/2019

... Upcoming Litters 08/06/2019

... Scotties Love to Play 04/27/2019

... Happy Birthday !! 05/06/2019

... Puppy's First Haircut 04/27/2019

... About Scottish Terriers 04/18/2019

... Seasonal Pictures 04/16/2019

Thanks for looking !!
We DO NOT provide information regarding puppies, pricing, availability, etc, unless you call us !

Since most of our puppies do not stay in our local area, we INSIST on speaking to everyone who wants on our wait list.

In order to protect our puppies, we are very strict about who gets one of them.
We have been breeding the finest and most lovable Scottish Terriers in the Indiana since 2001! We not only breed our dogs to strict standards, but we nurture, socialize, and love them, raising them alongside our own family. Of course, it's our bloodlines that makes our dogs such wonderful companions. We have multiple Champion background bloodlines in our Scotties, from all over Europe, South America and the USA, and it shows !! Our Scotties produce puppies that have wonderful temperaments, and they look like a Scottie should look. We're different from other breeders…. we are a small, family-owned and operated breeder that raises our beautiful dogs with outstanding pedigrees. If you are looking for an alert, protective and healthy Scottie..... we have the Best in The Mid-West !!! We guarantee our Scotties for 1 year from genetic health problems. We've had families come back the second and third times to add another one of our beautiful Scotties to their family. Our puppies are born and raised in our home. They are house-trained to newspapers when we send them home with you.






We DO NOT advertise our puppies on ANY social media sites (Facebook, Instagram, etc.). We REQUIRE a phone conversation with you to insure that you are a good fit for one of our puppies. Most of our puppies are placed in homes that are repeat buyers or that have heard of us by "word-of-mouth"…. the best advertising in the world. We don't feel that it is appropriate to "fish" for potential clients. We are well-known, with a good reputation as an honest, reputable breeder with gorgeous puppies. If you want a high-quality, healthy, beautiful Scottie, that comes with a written health guarantee, YOU WILL FIND US…. WE DON'T HAVE TO LOOK FOR YOU !!!!




We are honest and reputable and have earned an excellent reputation. We have been AKC inspected multiple times, and have always passed with flying colors. We believe that everyone who wants a Scottie should be able to have one. We don't feel that you should lie, cheat, or mis-lead people to sell a puppy. We want you to be comfortable with us as your breeder, because we expect to maintain contact with you for the life of your puppy.






AKC inspections insure the integrity of the registry and monitor care and conditions across the county. AKC is the only purebred dog registry in the USA that maintains a systematic and sustained investigation and inspection effort. AKC conducts 5,000 inspections each year to insure compliance with standards that support health, safety, and welfare of dogs and the environment in which they live.




We have been inspected multiple times by AKC field representatives. They check our dogs and all of our paperwork. Included in this type of visit is actual hands-on inspection of our dogs, including checking their micro-chip numbers, inspection of the space where the dogs sleep, exercise, and eat, as well as analysis of all paperwork required by AKC. We have passed every time we've been inspected !!




We welcome and support AKC inspections. They help to insure that breeders are doing their best for their dogs. Inspections are just one of the many reasons that AKC is the ONLY registration that you should trust for your next puppy – no matter which breed you choose.



Though the attached link is not specifically related to Scottish Terriers, we feel it is more than appropriate, given that Scotties suffer from more cancer THAN ANY OTHER BREED !!!

We have been breeding Scotties for since 2001, and since 2008, we have felt that in-breeding and line-breeding was a contributing factor to the overwhelming instances of cancer (and many other health issues) that Scotties suffer. At that time, we decided to find reputable breeders that had no in-breeding or line-breeding in their bloodlines. Our research indicated that nearly all of the 'desirable' American bloodlines indicated multiple repeats of in-breeding and/or line-breeding. At that time, we decided that we would research foreign bloodlines, and discovered that most European breeders did NOT in-breed or line-breed.

We acquired 3 Russian blood-lined Scotties in 2009 and, since that time, have only bred pairs that have at least one foreign blood-line. We've found that puppies produced with this breeding philosophy have been healthy, gorgeous, and have a true Scottie personality. We continue breeding under this philosophy to this day.

Please read the following link and decide for yourself…..
We believe in planned puppy parenting. We interview every person or family before they adopt one (or sometimes two), of our Scottie puppies.

We realize that it is a major commitment to bring a quality Scottish Terrier puppy into your home ! We want to make the transition as stress-free as possible for all parties involved, but especially for the puppy ! You can purchase a Scottish Terrier puppy from lots of places, but no one will stand behind your quality Scottie puppy like we will ! You know the old saying ... "YOU GET WHAT YOU PAY FOR" ....we like to add "YOU CAN PAY YOUR BREEDER, OR YOU CAN PAY YOUR VET"… You will only receive a well-bred quality Scottish Terrier puppy from Shady Nook. Thank you for considering us for your Scottie puppy! We look forward to hearing from you !!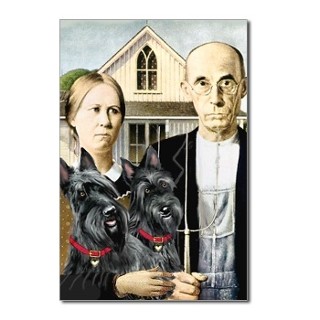 Welcome to the Shady Nook Scotties website!

If you love Scotties like we do, or are just curious about them, please take the time to browse our website and learn more about this big dog in a little dog body !! Check back often to see what's going on at Shady Nook Scotties. We update the website regularly !!
We are committed to providing our clients with the healthiest, best Scottie that we can. Please look through our website, and give us a call if you have questions or comments. And, please, sign our guestbook !!!!
We breed, raise, and love Scottish Terriers in a family environment with attention to reputable breeding practices. We maintain a waiting list for puppy buyers and seldom have enough puppies to go around, so contact us if you are interested in a puppy and we can add you to the wait list.
We are breeding Scotties because.....
1). We love the breed,
2). We want to improve the breed, and
3). We want others to enjoy the breed.
| | |
| --- | --- |
| used with permission of Ann Cothran Kallal. To see other designs by Ann , click this link.... | Scottish Terriers have been immortalized in high art and pop culture more than any other breed of dog. |
We believe that by breeding our males (with outstanding champions in their background) to our great-tempered females produces a Scottie with a wonderful temperament. This insures that our customers are getting a great-looking AKC Scottish Terrier that is fun, friendly, and a lifetime companion.
Our Scotties are good with children, and become very attached to their family. They are naturally inclined to get along with other pets. We have had several repeat buyers !!
Many people are unaware that Scotties come in a variety of colors. Colors can be black, brindle, black brindle, red brindle, silver brindle, and wheaten. We have all colors of Scotties.
Scotties will adapt to the activity level of your family -
they love to do what you love to do.

We have a LIFETIME return policy. If, for any reason, someone is unable to keep a puppy they got from us, we will always take the dog back ------------ NO QUESTIONS ASKED.
| | |
| --- | --- |
| You are visitor number.... | To find us on FaceBook, click |
We use and recommend NuVet supplements.


Scientifically formulated to provide everything your pet needs for perfect health

 

**************************************************

You don't have to have a Shady Nook Scottie to purchase

NuVet supplements. They are good for all breeds of dogs.

….and they have a formula for our feline friends, too..

**************************************************



"I love all dogs, but I only sleep with Scotties...."
Shady Nook Scotties
Sindee Hart
Beautiful Southern Indiana

(812) 858-3977
This site, and all content herein, is copyrighted
by Shady Nook Scotties.
July, 2007.