All content on this website is copyrighted and/or used with permission. Any unauthorized usage of this content will subject the offender to legal action.
Contact us at : shadynook47@gmail.com or 812-858-3977.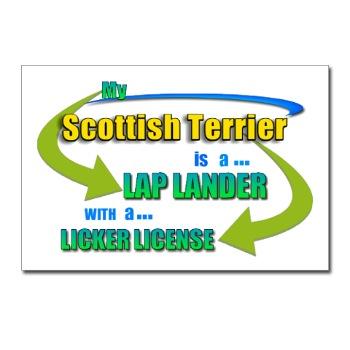 Krista recently entered Midge & Mandy in the Evansville Obedience Club trials. Both are in the Novice Group. Here's Krista's report…

"Mandy, Midge and I had a pretty good Friday night!
In Rally Novice A Mandy had a score of 100 and Took a first place then a second place to receive her first title. Midge got her first and second leg with second and a first in the same!"

Way to go girls !!! We are VERY proud of Midge & Mandy … Scotties can be very stubborn, so it's quite an accomplishment to do so well in Obedience…

Midge & Mandy were whelped at Shady Nook in Apr/2009.






Krista, Midge & Mandy



Midge & Mandy



Ribbons !!!
| | |
| --- | --- |
| GEORDIE has completed his obedience training !! He lives in New Jersey with the Gourlay family. Geordie was whelped in Sep/2013. We are PROUD of this boy !! | GEORDIE |
| GEORDIE | GEORDIE |
| | |
| --- | --- |
| Whisky & Gina | WHISKY is a beautiful wheaten male that was whelped in Sep, 2011, out of Honey x Boris. He is a great dog and LOVES the agility course. This picture show him with his CGC and Star Puppy awards. He lives in Kentucky with Gina. WAY TO GO, WHISKY !!! |
The following appeared in the Sep/Oct, 2011 edition of Great Scot Magazine. The Kleins got Nessie from us in March/2011. Nessie is out of Kelsey x Boris... Thanks for the wonderful acknowledgement !!
SHOW RESULTS....
| | |
| --- | --- |
| Driving through the Hoosier National Forest at 6:30AM on Sep 3, 2011.... On the way to The Bluegrass Classic All-Breed Dog Show in Lexington, KY...... to see Maddee WIN her first trophy!!!! What a start to a beautiful day !!! | |
| | |
| --- | --- |
| MADDEE in Lexington..... | ARRROOOOO !!!! Here's the official show picture of Maddee after her wins in Lexington on Sep. 3, 2011..... Winners Bitch, Best of Winners, Best of Opposite Sex.... Maddee is DA BOMB !!!!! Thanks to Frank Long, our handler, and to Ms. Simmons, today's judge !! |
| The show in Lexington was an outdoor show and the weather was HOT !! It was 100 degrees on Saturday !! Maddee had never done an outdoor show, so we were a little nervous about how she would act on grass... But she did GREAT !! | MADDEE waiting for her turn in the show ring |
MADDEE took Winner's Bitch on both Saturday & Sunday at the Western Carolina All Breed Dog Show on June, 18-19, 2011. The show was held at the Haywood County Fairgrounds in Waynesville, NC. WAY TO GO, MADDEE !!!!
AGAIN !!!! MADDEE has won in Georgia. !! She took "Winner's Bitch" and "Best of Winners" in the show on Saturday, April 16, 2011 !! Way to go Maddee !!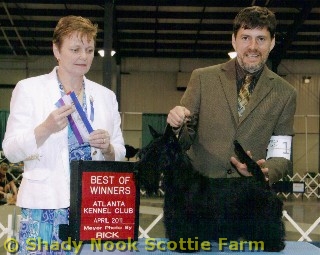 MADDEE has done it again !!! She took "Winner's Bitch" in the show at Birmingham, AL on Friday, Apr 8, 2011..


WE HAVE RECEIVED THE OFFICIAL PICTURE OF MADDEE'S Mar 17, 2011, WIN IN LOUISVILLE !!
GREAT NEWS !!! Maddee took Winner's Bitch in the Mar 17, 2010 show at Louisville !! She got her first 2 points towards her Championship !! AARRROOOOO !!!!!


MADDEE - Louisville

MADDEE did very well in Louisville. She took Winner's Bitch in Thursday's show !! Way to go Maddee !!!!

Thanks to our handler, Frank Long

.... and a very special thank you to judge Jill Soble-Smith !!
| | | |
| --- | --- | --- |
| MADDEE in the ring with Frank in TN | MADDEE in her first show in Franklin, TN. For some reason, she would not hold her ears up... so she did not win her class. Hope she does better next week in Louisville !! | MADDEE standing for the judge.... |
| | |
| --- | --- |
| Jackson, MS - Dec 16, 2010 | Jackson, MS - Dec 17, 2010 |
| Jackson, MS - Dec 18, 2010 | Jackson, MS - Dec 19, 2010 |
Winston Salem, NC ... Krus won his class in 2 of the 4 days, and placed as Reserve Winner on the first day. Again, he showed very well and is looking forward to next weekend in Jackson, MS.
Winston Salem - Dec 10-13, 2010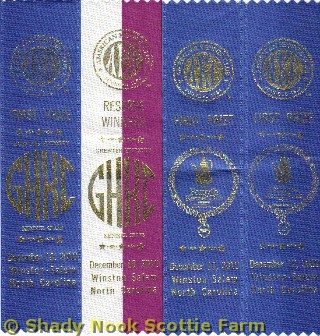 Winston Salem Show Awards
Decatur, AL - Nov 13, 2010... Krus placed first in his first show! Krus strutted his stuff, and had the attitude "I'm here ! Let's get this party started !!".... Our handler reported that Krus did VERY well and he will be entering him in more shows immediately.
Maddee also won first place in her first show !! She was a little unhappy about having her coat stripped, so she acted like a little diva !! Her show coat is not completely in yet, so we brought her home, and sent Olive out.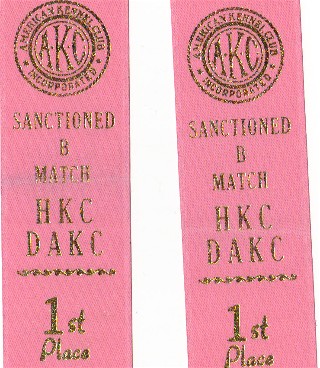 Shady Nook has been recognized nationally. Click the links below to see our proud accomplishments...