Our Breeding Program
We do extensive research into the background of each male & female to determine if they will be a good pair to breed. We plan each breeding, but you can't determine what a pair will produce on their first breeding. If a pair produces excellent puppies, we will breed them again at a later date. If their puppies don't meet our expectations, we will not breed that pair again. We birth all of our puppies in our house, and attend every whelping. We are there to help the mother if need be, and we weigh and mark each puppy with different color of finger nail polish as it's born. We also weigh them each night for the first 2 weeks and chart their weight to insure that they are all getting enough to eat. The puppies stay in our house until they go to their new home. We handle and socialize our puppies constantly, and expose them to kids of all ages. By the time you get a puppy from us, it has been loved and cared-for like no other.
Every breeder would love to produce show-quality puppies every time. All puppies are cute, but it is next-to-impossible to determine the conformation of a Scottie when he/she is 8 weeks old. Our goal is to produce the healthiest, best quality puppies available. We have lots of satisfied clients(see the "Check Out Our Feedback" page). Once our females are retired from breeding, we have them spayed and they live a life of leisure in our home, or they go to our close friends.

What you get from us
Our pups will have dew claws removed, will have been wormed three times, will have at least one puppy shot, and will be checked 3 times by our vet. We completely trust our vet's judgement, and we work one-on-one with him when making decisions about breeding, medications, and health issues by using his knowledge and input. We spare NO expense when it comes to our Scotties' health and care. When we deliver your puppy, you will receive a puppy packet that includes a dog toy, a nutrition supplement sample and brochure, a starter supply of food, and proof of your puppy's vWD status.. (for more information about vWD, see our "Health Considerations" page).
Do NOT buy a puppy that is not AKC registered !! Unlike other registries, AKC has the resources to maintain registrations to insure that your puppy is pure-bred. AKC has the means to provide extensive history of registered breeds - other registries do not. This insures that the Scottish Terrier you get from us is really a Scottish Terrier throughout his/her entire family tree.
Buying over the Internet...
It can be scary to buy anything over the Internet, let alone a puppy. We hope that the information we provide you will help you feel safe in your purchase of a puppy, no matter which breeder you pick. Ask LOTS of questions and make sure that you feel comfortable with the breeder.
The only bad question is one you don't ask.
**************************************************************
How many Scotties are in this picture ???
Prior to becoming a dog breeder, Sindee was a successful artist. She has added some 'Scottie flavor' to the wallpaper border... There are 3 Scotties in each of the pictures... Can you find them all ??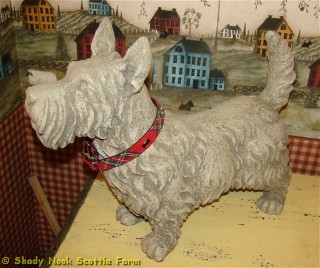 How many Scotties in this picture ???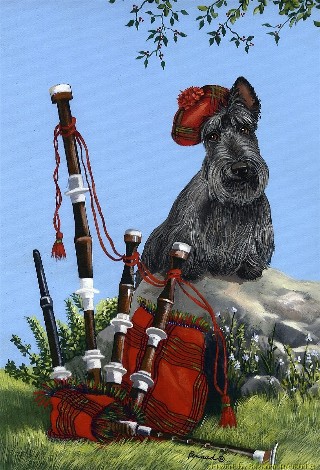 ....used with permission of Suzanne Renaud
I have been a fan of Suzanne's artwork for several years. I have several of her prints and use her Christmas cards every year. To find out more about Suzanne,