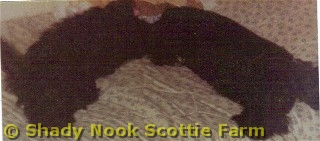 Rhett & Scarlett - 1983
We are available to advise you on Scotties, food, vitamins, grooming, and general health questions. We will also refer you to other resources that can help answer your inquiries. Our clients cannot believe how accessible we are to them. Read the feedback of our Scottie buyers and ask them what they think of our breeding program, and of us. Our Scotties are fed high-quality grain-free food, and given Nuvet supplements.... Nothing but the BEST for our Scotties !! Our breeding stock has the best vet care. We NEVER skimp on our puppies - they are wormed every 2 weeks, and vet checked 3 times. We have received recommendations from 7 out-of-state vets that we don't even know. Why ?? Because they have seen one of our puppies !! That says everything there is to say about the quality of our puppies. We have the best bloodlines that we can get. We invite you to explore our website. Look around. Have fun reading about Scotties and their families. ENJOY !!!
We perform every health test that is available on all of our Scotties BEFORE we breed them. There are, however, health issues for which there are no tests. If we ever encounter one of these health issues, we will stop breeding those dogs. We don't want ANYONE to have a puppy from us that has any kind of problem.  
There are breeders out there who will say or do anything to get you to buy one of their pups. Other breeders have copied our ads word-for-word, or used phrases out of our ads. We always create our own ads and web content, so we see no need to copy things from others. If you truly LOVE Scotties, writing wonderful things about them is not difficult. When looking for your Scottie puppy, PLEASE check the breeder out thoroughly !! Ask LOTS of questions. Ask for referrals from the breeder and CHECK THEM OUT !!!! You should feel comfortable calling your breeder for any question regarding your puppy – and that breeder should ALWAYS call you back within a reasonable period of time. Breeders that have multiple breeds should be looked at very carefully. Scotties are a full-time job !! Puppy Mills won't return your calls - they don't perform any kind of health testing and they won't guarantee the health of your puppy IN WRITING. We are always here to answer your questions. Though we know it would be a difficult decision for you, we will take your puppy back AT ANY TIME during his/her life – NO QUESTIONS ASKED.
We only breed and raise Scottish Terriers. We don't have hundreds of dogs. We only breed our females after they have passed a rigorous vet examination. We bathe and groom all of our Scotties on a regular schedule. They are happy, healthy, well-socialized members of our family.
We are honest and reputable and have earned an excellent reputation. We are very friendly, helpful people, and believe that everyone who wants a Scottie should be able to have one. We don't feel that you have to lie, cheat, or mis-lead people to sell a puppy. We want you to be comfortable with us as your breeder, because we expect to maintain contact with you for the life of your puppy.
We will NOT sell to Kennels, Brokers, Puppy Mills, or Pet Stores - DON'T ASK !!
If there are no dogs in Heaven,

then, when I die,

I want to go where they went.

- Will Rogers


"All dogs are good;

any terrier is better;

a Scottie is best."

William Haynes.

| | |
| --- | --- |
| | We are very proud to announce that we have received permission to display Scottie artwork by Cherry O'Neill, Sindee's friend. Her company is called TailEnd Productions. You will see her artwork in various places on our website. ALL OF HER ARTWORK IS COPYRIGHTED !! To see, or purchase, artwork by Cherry, click |