*****************************************************
Why is NuVet Plus the best pet supplement available ???
No dog food can provide all of the nutritional needs of your pet. In order to completely meet your dog's nutritional needs, we also recommend a GOOD nutritional supplement. The ONLY supplement we have found that works and gives excellent results is NuVet Plus. We have found that our Scotties' coats stayed darker, and mothers did not drop their coats after birthing (due to hormones), when using NuVet Plus. It is an excellent immune system builder, and helps to combat tumors, arthritis, allergies, itching, and more !! NuVet is scientifically formulated to provide everything your pet needs for perfect health. It is safe for animals of all ages, including pregnant females. This product is NEVER heat-processed, since heat destroys essential nutrients and reduces effectiveness of all-natural ingredients.
Allergies, skin and coat problems, arthritis, tumors, cancer, cataracts, strokes and heart disease are just a few of the 50 major diseases caused by free radicals. Unfortunately, these diseases lead to suffering and premature death in our pets. The Veterinarians, Physicians, Pharmacists and Nutritional Scientists of NuVet Labs have blended a precise combination of human grade natural vitamins, minerals, herbs, anitoxidants, bioflavinoids, fatty acids and amino acids proven to combat the ravages of free radicals and to provide immune system support.
AND.... they provide 100% satisfaction guarantee !!
NuVet Plus supplements....
We start all of our puppies on NuVet Plus as soon as they are weaned. All of our adults are on them, too. Whether you have a Scottie or not, please check out www.nuvet.com
to find out about this wonderful product. These supplements are sold only in association with a breeder and are made with human-grade ingredients, and to the highest standards. You can order by calling their toll-free number - (800) 474-7044 and giving them our breeder number (82438), or by using the web address, above, with our breeder number.
We use and recommend NuVet supplements. They contain human-grade, water soluble ingredients and build your dog's immune system ..... We have seen amazing results !!
We are breeding to get the healthiest dogs possible with the best temperament and, in order to do this, we are providing our dogs the best food and supplements that we can find. We HIGHLY recommend NuVet Plus - they are made from human-grade ingredients and address many health issues in your pet. NuVet backs their products with a money-back guarantee... AND "NuVet Labs™ proudly pledges to donate 5% of its net income to charities, scientists, veterinarians and other individuals and organizations whose goal is to work for the improvement and well being of the animal population."
***********************************************
We use and recommend NuVet Plus supplements.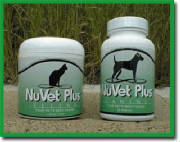 Helps with scratching, itching, hot spots and allergies
To order NuVet Plus, click HERE
*************************************************************** Please note...
You do not have to own a Shady Nook Scottie to purchase these supplements. They are good for all breeds of dogs..... and they have a formula for our feline friends, too.....