All content on this website is copyrighted and/or used with permission. Any unauthorized usage of this content will subject the offender to legal action.
Contact us at : shadynook47@gmail.com or 812-858-3977.
| | |
| --- | --- |
| Welcome to our "Health Page". The purpose of this page is to provide information to you that will help in understanding some of the health issues that affect your pet (whether it's a Scottie, or not). Check the "Cool Links" section at the bottom of this page...... | |
Your dog doesn't know he has cancer…..
Shady Nook has always been concerned about Scottie health. We DNA-tested all of our dogs for vWD several years ago. Only recently, a new DNA test has been developed that can determine if a dog is likely to have Craniomandibular Osteopathy (CMO). We have submitted all of our dogs for testing in this program and are proud to announce that all are safe from this terrible affliction. For more info on CMO (and other Scottie-related diseases), please scroll down this page.....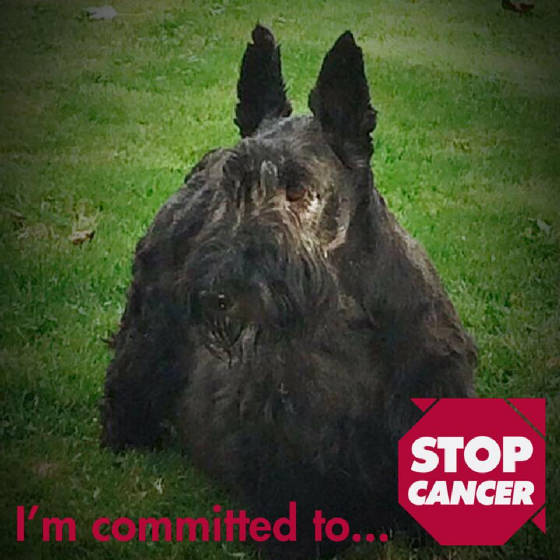 Cancer in Scottish Terriers
Scottish Terriers have a greater chance of developing some cancers than other purebreds. According to research by the Veterinary Medical Data Program (1986), six cancers that Scotties appeared to be more at risk for (when compared to other breeds) are: (in descending order) bladder cancer and other transitional cell carcinomas of the lower urinary tract (the dreaded TCC); malignant melanoma; gastric carcinoma; squamous cell carcinoma of the skin; lymphosarcoma and nasal carcinoma. Other cancers that are known to commonly affect Scotties include mast cell sarcoma and hemangiosarcoma.
Research has suggested that Scottish Terriers are 20 times more likely to get bladder cancer than other breeds and the most common kind of bladder cancer is transitional cell carcinoma of the bladder (TCC). Dr. Deborah Knapp of Purdue University School of Veterinary Medicine has commented "TCC usually occurs in older dogs (average age 11 years) and is more common in females (2:1 ratio of females to males)." Symptoms of TCC are blood in the urine, straining to urinate, and frequent urination — although owners noticing any of these symptoms should also be aware that the same symptoms may also be indicative of a urinary tract infection.

The most common and effective form of treatment for TCC is Piroxicam, a non-steroidal anti-inflammatory drug that "allows the cancer cells to kill themselves." In order to help prevent cancer in a dog, an owner should ensure that their dog has minimal exposure to herbicides, pesticides, solvents and cigarette smoke; use caution when treating dogs with some flea medications; provide a healthy, vitamin-rich diet (low in carbohydrates, high in vegetables) and plenty of exercise.
*****************************************************************

Here are some specific things YOU, as a responsible dog owner, can do to insure your puppy's health:
***********************************************

DO.... exercise !! Exercise is good - up to a point.

Excessive exercise, tired muscles and ligaments make your puppy prone to injury. Never force exercise on your pup. Do not encourage him to play when he wants to rest. Make sure that your walks have rest periods for your puppy, and monitor the distance. It may be a lot more difficult for your pup to walk back home after he is tired. He has to make a LOT more steps than you do to cover the same distance.

DO.... feed a quality food. NEVER give your puppy food that has the first ingredient listed as corn, wheat, or gluten. These are the major causes for allergies, and should be avoided.

DO.... provide a quiet, safe spot for your puppy to rest. Just like people, dogs like their 'private time'. Puppies will play until they are completely worn out, and will want a quiet place to rest. A crate in a room away from the noise of your household is perfect.

*********************************************

DON'T.... allow your pup to slip/slide on slick floors (tile, linoleum, etc.) Your puppy sliding across the floor after a toy is cute but it can also cause damage to his joints. Access to slick floors should be limited. Our pups are on a rug/newspapers from day one - which helps to keep them from being 'swimmers'. Swimmer pup's back legs resemble a frog, their back legs sliding out from their body because their muscles aren't strong enough to get up on their feet. They need traction to be able to get up on their feet. Since we don't allow our pups outside on the grass until they leave us, this can be a challenge for us.

DON'T.... let your puppy climb stairs. Stairs are a work-out for people as well as for your puppy. The pup's joints/muscles are stressed by stair-climbing. Between the added stress and the angle of the stairs, it makes his joints work too hard and can cause damage to them. We strongly recommend your pup not climb stairs until he is 4-6 mo old and ONLY walking - never running. Though hard to do - supervise your puppy around stairs.

DON'T.... let your puppy jump off of things You would never let a 6mo old baby jump off of your roof. That's the equivalent of your puppy jumping off of your sofa !! Jumping over things/on things is one of the worst things a developing pup can do to his hips, elbows and knees. Don't make your puppy jump up for a treat, since the landing is too much impact on a young one's developing joints.
This is an X-ray of a 2 week old puppy( left ) - look at how far the bones have to grow before they become a proper bone joint! This is why you should never let puppies jump, walk up/down stairs, over exercise or over train. Doing to much impact activity at a young age can cause serious issues later in life, or even at a young age as hip dysplasia and other orthopaedic conditions are rising in puppies!
Remember the puppy rule for every month increase activity by 5 minutes. For example an 8 week old puppy only needs 10 minutes of physical activity a day - a 6 month old (right) only needs 30 minutes a day of physical activity!!
We have never had a problem with any of our Shady Nook Scottie's ears. However, we have acquired Scotties from other breeders that didn't seem to want to stand up like they should. Working with our vet, we came up with a simple solution that should work for anyone with a Scottie whose ears don't stand up. If you want to see this simple fix...... CLICK
************************************************

What makes a responsible breeder ???

Let us try to answer the question from our perspective.

As a responsible breeder....

...We know where every pup is and work with the buyer before, during and after the purchase of a puppy.

...We can/will say "no" to a prospective buyer if it's not a good match for one of our puppies.

...We do all health testing of parents BEFORE they are bred in order to insure healthy puppies.

...We work closely with our vet. Our vet administers all shots, medications, etc. That way, we know that all medications are not outdated, and aren't "off-brands", bought cheaper out of catalogs. This has happened to us when we have bought our own Scotties - they had shots, but our vet did not recognize the name brand, so we had the pup re-shotted, adding unexpected expense.

....We will take your puppy back, if for ANY reason you are unable to keep him/her during ANY TIME IN HIS/HER LIFE !!

... We are available anytime to answer questions

about your puppy's health, food, house-training, or supplements..

To be honest, breeders sometimes take the rap for everything that goes wrong with a puppy. This is not necessarily correct or fair.

Certainly there are some breeders that know their dogs have problems or will pass problems to their puppies. But they breed them anyway. These are NOT responsible breeders in our view. These breeders will not answer or return your phone calls, once you have found a problem with a puppy..

We would love to see bad breeders go out of business, but to them it's all about the money. We are breeding to better the breed. Good, responsible breeders are not getting rich - they put their money back into their breeding program.

But what about the responsible breeders who are blamed for the hidden genes that come from ancestors that had no part of their current breeding program? We don't know the right answer to this question. Puppies are live, breathing beings and, like children, problems can come up later.

Purchasing a puppy from a reputable breeder is a big expense. Responsible breeders will offer a guarantee on a puppy – it gives new puppy

owners the peace of mind that they are dealing with a responsible breeder.

You have no guarantees when you bring home your human baby from the hospital. Yet, responsible dog breeders provide guarantees for your puppy. You do everything possible to make sure that your baby is born healthy.

We do our absolute best to assure that our puppies are born healthy and leave here in the same condition. You hope and pray that you get a healthy child. We do the same with our puppies.

***************************************************

**************************************************************

HEALTH ISSUES YOU SHOULD KNOW ABOUT

**************************************************************
************************************************

Craniomandibular Osteopathy (CMO)

Also known as "Lion Jaw", "Westy Jaw" or "Scotty Jaw", this condition of CranioMandibular Osteopathy is caused by excessive bone growth in the bottom jaw, usually occurring between four to seven months of age. Like Scottie Cramp, it is an autosomal recessive hereditary disorder, and can cause discomfort to the dog when it attempts to chew. The progression of the condition usually slows down between eleven to thirteen months of age, and is sometimes followed by a slow partial or complete regression.

This condition has also been seen in other breeds of dog, such as the West Highland White Terrier, Cairn Terrier, Boston Terrier, as well as some larger breeds such as Bullmastiffs.

We have done extensive research, and have found no incidence of CMO in any of our breeding lines.




Now that a DNA test is available, we have tested all of our dogs for CMO.

For more info, see the link in "Cool Links"..

******************************************************************

Cushing's Disease

Cushing's disease is caused by the production of too much adrenal hormone. Cushing's occurs for two reasons --- a tumor of the adrenal gland or a tumor of the pituitary gland. Adrenal gland tumors account for 15% of the cases of Cushings. Pituitary tumors account for the rest.

Symptoms of Cushing's disease are increased drinking, increased urination, increased appetite, panting, and a whole list of others. Though the other symptoms are serious, most owners reach a point where the water consumption and urination become bothersome to them before they have their dog tested.

For more info, see the link in "Cool Links"..

*************************************************

Liver Shunt

Liver shunts are a congenital problem in some dogs. It can cause the liver to not develop properly after birth. It is typically not a life-threatening problem.

For more info, see the link in "Cool Links"..

*************************************************

Scottie Cramp
Scottie Cramp is a genetic disorder. It is not life-threatening, and does the least harm from the dog's viewpoint. It is a recessive gene disorder, and both parents must pass the recessive gene to their off-spring.

For more info, see the link in "Cool Links"..

***************************************************

Spaying

Females that are not to be bred should be spayed. Though it is an invasive surgical procedure, this is relatively risk-free and is better for the long-term health of your dog. Spaying is generally done after the age of 4 months, but before the first heat cycle. Dogs spayed before their first heat cycle reduce their chances of mammary cancer to less than 1%. Waiting until after a heat cycle increases the chances by 8 times that your female will get cancer.

Neutering

Males should be neutered to control the marking of territory and aggressiveness. Check with your vet to determine the best age, though most will want to perform the procedure at around 6 months of age.

For more info, see the link in "Cool Links"..

*******************************************************

Von Willenbrand's Disease (vWD)

Von Willebrand's Disease (vWD) is a genetic, inherited bleeding disorder. This disease is caused by the lack of a clotting factor in the blood. Because of the deficient clotting of blood, dogs with vWD have excessive bleeding, and extended bleeding times. Affected dogs, without treatment, can bleed to death during surgery, or what might be normally considered less-than-life-threatening injuries. An ear nick by a groomer, or loss of a tooth can be life-threatening in affected animals.

One company (VetGen) provides a genetic DNA test that will determine if a dog has vWD. DNA testing is the ONLY method that is 100% accurate for vWD. We have tested every one of our dogs, so that we can be assured of producing puppies that do NOT inherit vWD. Don't buy a Scottie from anyone unless you get proof that BOTH the sire and dam have been VetGen tested for vWD. We provide proof of vWD testing in writing !! Make sure you get it in writing !!

We have tested all of our dogs for vWD.

For more info, see the link in "Cool Links"..
Cancer

"The exact cause of transitional cell carcinoma (TCC) in an individual dog is usually not known. In general, canine TCC results from a combination of several factors including genetic predisposition and environmental factors. A genetic predisposition is suspected because TCC is more common in specific breeds of dogs. Scottish Terriers have an 18-20 times higher risk of TCC than other dogs. Shetland Sheepdogs, Beagles, West Highland White Terriers, and Wire Hair Fox Terriers are 3 to 5 times more likely to develop TCC than other dogs. Environmental factors identified as risk factors in early studies have included pesticides and insecticides such as "old generation" flea dips. The greatest cause of TCC in humans is smoking. Further study is needed to determine the extent to which second hand smoke may contribute to TCC in dogs."

For more info, see the link in "Cool Links"..

 
***************************************

Vaccination information........

Like your children, your puppy needs preventive vaccinations to guard against disease. We recommend that you vaccinate your puppy for each of these diseases - your vet can give you specific information about the schedule of vaccinations you should follow...

For more info, see the link in "Cool Links"..

***************************************

Bordetella

Commonly known as Kennel Cough, this bacterial illness is most commonly found anywhere dogs gather (groomer, dog show, dog park, etc.). Your vet can provide an intranasal vaccine for this disease.

***************************************

Coronavirus

This is a minor viral infection that does not, on it's own, present a major threat to your puppy. However, if contracted along with another virus (such as parvo), can generate life-threatening symptoms. An injectable vaccine is available to protect against coronavirus.

Distemper

In the past, was the most deadly of the viruses that your dog could have. Though it is still viewed as a dangerous virus, an injectable vaccine is readily available to control it.

Parvovirus

Probably the most common (and feared) viral illness in dogs at the present time. Puppies are the most susceptible to it, and it is extremely important that puppies are vaccinated for it during their initial round of shots. This virus is highly contagious and can be transmitted through direct contact with another pet. Affected pets can also leave the virus behind on grass and in the soil. Parovirus can live in the soil for YEARS !! For this reason, we NEVER put puppies down on the ground before we deliver your puppy to you.

Rabies

These vaccinations are required, by law, in all states. Some states allow for a 3-year rabies vaccination, while others require it annually. Check with your vet to make sure your puppy is on the proper vaccination schedule.



| | |
| --- | --- |
| | To find us on FaceBook, click |
We use and recommend NuVet supplements.


Scientifically formulated to provide everything your pet needs for perfect health

 

**************************************************

You don't have to have a Shady Nook Scottie to purchase

NuVet supplements. They are good for all breeds of dogs.

….and they have a formula for our feline friends, too..

**************************************************



"I love all dogs, but I only sleep with Scotties...."
Shady Nook Scotties
Sindee Hart
Beautiful Southern Indiana

(812) 858-3977
This site, and all content herein, is copyrighted
by Shady Nook Scotties.
July, 2007.