All content on this website is copyrighted and/or used with permission. Any unauthorized usage of this content will subject the offender to legal action.
Contact us at : shadynook47@gmail.com or 812-858-3977.
Shady Nook Scotties has become well-known all over the USA. We've gotten referrals from veterinarians in several states after they have seen our client's puppies. We also get lots of word-of-mouth referrals from previous clients. The best possible referral we can get is from a satisfied client. We are very proud that many of our puppies have gone to people who have heard about us "Through the Grapevine".....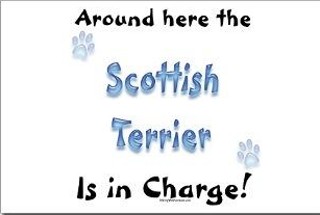 Below is feedback we have received from previous clients...
************************************************************
Received via email from Gary /Jeanette……

Greetings from Kansas. Yellow boy (Bentley) and Purple girl (Brandy) are PERFECT. They each weigh 10 pounds now. They have an appointment in 3 weeks with vet for their snip jobs...neuter and spay. Will also get their chips. … Kansas has been quite hot so we gave them a rough puppy cut to remove half fur and hoped to provide some cooler puppies. They each have massive amounts of gorgeous fur even when half was removed. These children are a joy to watch. Playful, love to cuddle. Seems they take turns playing tag and chasing each other. We just enlarged their play area and sure we will add another section before snow arrives. Right now their favorite seems to be swimming in the water dish then tipping it over. I seem to mop the floors frequently when this happens!!! They also love bath time.

Saw your post about Evita and Rozee with puppies. Best to both mamas. Always excitement for you. Just hope your new families are as happy as we are with our two Scots.

We are almost goofy with joy from our two. Thank you again for these two total wonders.



Best Puppy Ever !

I have nothing but good things to say about Shady Nook Scottie Farm ! I recently acquired two new puppies , one from Shady Nook and one from another breeder who has the reputation of being a puppy mill. The difference between the two dogs is as different as day and night. My Stoli from Shady Nook was raised with lots of love and care in the house with the family. He is the love of my life, trained, smart, sweet, happy, he even talks to me! Lots of character. My Tonka was raised in a puppy mill. I have had to work very hard to socialize him, calm him down and house break him. I love him as well but he did not receive the love and care and training Stoli did. I Highly Recommend Shady Nook ! First Class, loving caring Breeders !!!!

Reviewer: James, June 30, 2018


---


Love my Scottie

Amazing breeders with a LOVE for Scottish Terriers. Best website I have come across, once I scrolled through their site I knew they were the people I wanted to get my Scottie from. They kept us informed of our puppy up to the day we picked him up. I highly recommend them and would get another puppy from them.

Reviewer: Louiza, June 16, 2018


---


Quality Scottie puppies Shady Nook in Indiana

We followed Shady Nook website for a year before contacting them.We had two previous Scotties and lost both to cancer so decided to read and research as much as possible before commitment.Shady Nook met and exceeded our expectations and addressed our cancer concerns.Dale and Sindee are QUALITY breeders intent on improving the Scottie lineage.Shady Nook is NOT a puppy mill.it is a recipient of the Merit Breeders Award and members of Scottish Terrier Assoc.After talking with Dale and Sindee we requested our names go on the waiting list.We now have two Shady Nook puppies that are friendly, healthy,more socialized than any Scottie we have had.These puppies bonded instantly with our family.Bless Dale, Sindee and their QUALITY breeding standards for adopting these two exceptional Scotties to us.Instant love at first sight for our Scottie children.if we should increase our number of Scotties it will definitely be from Shady Noon in Indiana.

Reviewer: Gary/Jeanett, June 11, 2018






The more Shady Nook Scotties, the better!

There are no words that can express just how thankful we are to Dale and Sindee!When we adopted our Scotty Children they were very knowledgeable and answered EVERY question we could ask.ALWAYS gave us a call with updates, returned our call, answered every email and posted and emailed weekly photos. They are a trustworthy family, who enjoy doing what they do and KNOW their limits.They were even eager to give us a tour of their town, and even took us into their home to meet our puppies. Each of our Scotties have the BEST personalities, wonderful dispositions and smart! There is ALWAYS something new with each and every one of them on a daily basis that just makes us love them more and more. We now have 4 "Scotty Children" from Shady Nook, and if we could have more we absolutely would not hesitate to jump back on the list. Dale and Sindee, if you are reading this....Thank you for EVERYTHING!!! Much Love to you, Mike, Mindi, Fiadh, Stoli, Tallulah and MacAllan

Reviewer: Mike Mindy, June 6, 2018




Indiana James and Maggie

In December 2017 my husband and I lost our two Scotties of 13 years within 4 days of each other, we were devastated and we began to search for two new additions to our family. In my search I found Shady Nook which turned our to be the best thing that happened to us. In January 2018 Indy was born at Shady Nook. He is the most handsome Scotty and he loves to be with people. Each week we received photos of Indy as he grew and we were delighted with what we saw. Sindee and Dale are kind caring people and they love their scotty dogs. They provided an excellent start to Indy's life and we received a happy and healthy puppy. They knew we were also looking for a female wheaten scotty and found a connection for us to find our Maggie girl, just 2 week older then Indy. We are once again a happy Scottish Terrier family due to Shady Nook. Our Ginger Girl and Piper Boy will always be remembered and hold a place in our hearts. Thank you Shady Nook!

Reviewer: Tina, June 2, 2018


---


Proud owner of 2 Shady Nook Scotties!

We got our first Shady Nook Scotty, a retired female, a year ago. We picked up our new Shady Nook puppy yesterday. They are both wonderful dogs! They are both extremely friendly and lovable. I have owned Scotties all my life and they are the first "lap Scotties" I've ever had. They are both very healthy and have a beautiful coat of fur. We are remaining on the puppy list for a possible third Shady Nook Scotty. Shady Nook's policies, i.e. spay/neuter, no shipping, etc. are things that I believe in and finding they believed in the same things was very important to me. I like that you have to interview and be approved to be on the puppy list. They really are about the home their dogs go to, not just "did the check clear". I really LOVED the weekly puppy pictures they sent us. Their puppies cost a little more and it was a 2 day trip, but it IS worth every minute and penny! If you are looking for a Scotty fur child, this is the place to go!

Reviewer: Cherie, June 1, 2018


---


Gracie and Olive

These are sister puppies we purchased from Shady Nook Scottie Farm. The breeder was very gracious during our interview and responded to all of our questions and comments. We could tell that they are very concerned who gets their puppies. Gracie and Olive were seven months old when we picked them up. They are sisters from the same litter and very close. It is awesome to see how they relate to each other. Where one goes or sleeps there is the other. They have taken to their new home and our family better than we expected not ever having two Scottish terriers at once. The sisters have beautiful black coats and are well behaved.

Reviewer: Al, April 4, 2018





Received via email, Feb 13, 2018…..

Hi Sindee & Dale,

This is Toby and my son just before the holidays! I can't tell you how much he means to us. We love him!! When I got the call from you that there was a puppy for me, you said he was very vocal. At the time I didn't know what that meant or how you knew that, since he was brand new. Well, you are so right, it's not that he barks too much, yes, he does bark. He talks to me, making sounds,all the time. I've gotten to understand some of what he says, not to worry he doesn't give up, he makes sure I get it eventually, hungry, thirsty, wants go out, wants a toy or a treat Our last scottie would ring a bell to let us know she wanted to go in or out, not Toby, he wants no part of the bell,he tells me when its time to go out or come in! i just can't get over that you could tell that right off! Toby was whelped on April 15,2015.

One very happy Scottie owner

thank you

Dorothy

Though we have been breeding Scotties since 2001, we did not have a feedback mechanism until 2006.......



| | |
| --- | --- |
| | To find us on FaceBook, click |
We use and recommend NuVet supplements.


Scientifically formulated to provide everything your pet needs for perfect health

 

**************************************************

You don't have to have a Shady Nook Scottie to purchase

NuVet supplements. They are good for all breeds of dogs.

….and they have a formula for our feline friends, too..

**************************************************



"I love all dogs, but I only sleep with Scotties...."
Shady Nook Scotties
Sindee Hart
Beautiful Southern Indiana

(812) 858-3977
This site, and all content herein, is copyrighted
by Shady Nook Scotties.
July, 2007.