All content on this website is copyrighted and/or used with permission. Any unauthorized usage of this content will subject the offender to legal action.
Contact us at : shadynook47@gmail.com or 812-858-3977.
Shady Nook Scotties has become well-known all over the USA. We've gotten referrals from veterinarians in several states after they have seen our client's puppies. We also get lots of word-of-mouth referrals from previous clients. The best possible referral we can get is from a satisfied client. We are very proud that many of our puppies have gone to people who have heard about us "Through the Grapevine".....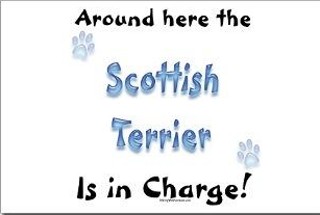 Below is feedback we have received from previous clients...
************************************************************
Received via email, Feb 13, 2018…..

Hi Sindee & Dale,

This is Toby and my son just before the holidays! I can't tell you how much he means to us. We love him!! When I got the call from you that there was a puppy for me, you said he was very vocal. At the time I didn't know what that meant or how you knew that, since he was brand new. Well, you are so right, it's not that he barks too much, yes, he does bark. He talks to me, making sounds,all the time. I've gotten to understand some of what he says, not to worry he doesn't give up, he makes sure I get it eventually, hungry, thirsty, wants go out, wants a toy or a treat Our last scottie would ring a bell to let us know she wanted to go in or out, not Toby, he wants no part of the bell,he tells me when its time to go out or come in! i just can't get over that you could tell that right off! Toby was whelped on April 15,2015.

One very happy Scottie owner

thank you

Dorothy
Received via email, Nov 12, 2017…..

Dale & Sindee,

We're sorry it has taken us so long to send you an update on our little Trixter....we can hardly believe we've had her for just over 2 years now.

She continues to be the light of our lives....her good nature, thirst for adventure and cuddly personality remind us daily how thankful we are for having her in our lives.




We take her with us everywhere....especially up to New Hampshire. We just got back from her third trip to Squam Lake (of On Golden Pond fame) and she has become a champion water dog! She spent hours fetching sticks thrown in the lake, went for two boat rides and made it to The Yards (a small set of islands in the middle of the lake) where she went for the longest swims in Scottie dog history...her husky companion wasn't anywhere near as good as she was! We kept a close eye on her at all times but it did get hard as she's quite the speedy swimmer.




She is happy, healthy and has lots of buddies in the neighborhood including a little bunny (Oscar) who moved into our garden this summer....Trix loves letting us know when he's visiting.




We hope you are all well and wanted to update you as well as thank you again...we are forever grateful for our marvelous little girl!

The Murray's
Received via email, Apr 30, 2017….

Hello Shady Nook,

Can you believe our little pumpkin turns two on Saturday? We are heading south on Tuesday and going to the Kentucky Derby for the first time to knock it off our bucket list so I didn't want to miss an email to you with our busy schedule.

Scooby will be two on Saturday, wow, what a ride. I am pleased to report that he is perfect! When we get back from vacation, we are giving him freedom to have the full living room (he's only had the kitchen) when we are at work. We have been easing him into it. We'll have to keep the pillows up as they are very interesting to him but he can look out the window all day which he loves to do. He is still a rock star at day care and plays with all the big dogs. His "nanny" just loves him and I know he gets special treatment because he is so stinking cute.

Thank you Shady Nook. We had the two year anniversary of Snoop's passing on April 24 and it was just a little bit easier as I would expect and all because of you guys...thank you.

We hope all is well with you and we hope you have a great summer.

Todd, Trish & Scooby



Winnee was retired to a wonderful home in Mar/2017. The was received via email from the Lett family … 04/15/2017

Happy Easter to you guys. We are so lucky that Winnee has come to live with us. Wonderful with our grandchildren. She always keeps us within her sight. We walk 2-3 miles/day. Loves baby carrots. Our Vet was very impressed with her condition and teeth. We read the post about rehoming dogs. We had to laugh. You folks are Very particular with placement of your dogs. It was easier to get a home mortage!!! Thanks



WINNEE
Scottie Excellence

We were very lucky to find Shady Nook and their excellent Scotties. We have a new pup from them and could not be happier. Sindee and Dale were very responsive and helpful with all our questions. This is not our first Scottie, so we were very impressed with their caring and knowledge of the breed. We called many breeders before we call Shady Nook and found most breeders to be not as helpful or they have very unreasonable guidelines for purchasing from them. Shady Nook was just the kind of breeder we were looking for. Reputable, kind and caring breeders.

Reviewer: Anna, March 7, 2017
Received via email – Jan 29, 2017

Hello Dale and Sindee,

Greetings from Minnesota!

I wanted to send a little note with some pictures. Pieper is 1 today! Pieper got all her faves today.....walks, a car ride, tuggy time with her sis, homemade doggie treats and a Frosty Paw!

She is the best Scottie EVER! She has the happiest and easiest going disposition. She has been the easiest Scottie to train (potty train, baths, daily routines, etc). She has been such an awesome addition to our family! She looks so much like both her mommy AND daddy as she gets older. She has lots to say and is the only Scottie I have ever had that is so focused on watching TV! If there is an animal on TV, she is growling and barking. She can be sleeping with her back to the TV and wake up for a commercial with an animal on it! Too funny!

Below are some pictures of Pieper and her sis, Maisie celebrating the big birthday today.

Thank you again! I couldn't be happier with Pieper! If you only knew how loved she is and how thankful I am to have gotten her.

Just wanted to share a few pics, thank you AGAIN, and give you a little update!

Hope all is well with you and your family!

The Taylors



Shady Nook is THE place to go if you want quality!

We just bought a new Scottish terrier puppy from these breeders and I have to say...Shady Nook Scotties is the place to go. They are responsible, helpful, kind, professional, and care about improving the breed. They really know their stuff. Before I found Shady Nook, I talked with a couple of other breeders and just didn't get a good feeling from either of them. With Shady Nook, no question is off limits and they were always responsive and kind. The old saying, you get what you pay for appears to be true here. Our new puppy is absolutely adorable. Very healthy and super smart. He's only 7 weeks old and is already learning what it means to go potty outside! His coat is absolutely beautiful. His temperament is charming and we couldn't be happier. I highly recommend this breeder as my experience with them was AAA+++ all the way from beginning to end and I'm a very picky person!

Reviewer: Sally, February 15, 2017

Though we have been breeding Scotties since 2001, we did not have a feedback mechanism until 2006.......



| | |
| --- | --- |
| | To find us on FaceBook, click |
We use and recommend NuVet supplements.


Scientifically formulated to provide everything your pet needs for perfect health

 

**************************************************

You don't have to have a Shady Nook Scottie to purchase

NuVet supplements. They are good for all breeds of dogs.

….and they have a formula for our feline friends, too..

**************************************************



"I love all dogs, but I only sleep with Scotties...."
Shady Nook Scotties
Sindee Hart
Beautiful Southern Indiana

(812) 858-3977
This site, and all content herein, is copyrighted
by Shady Nook Scotties.
July, 2007.